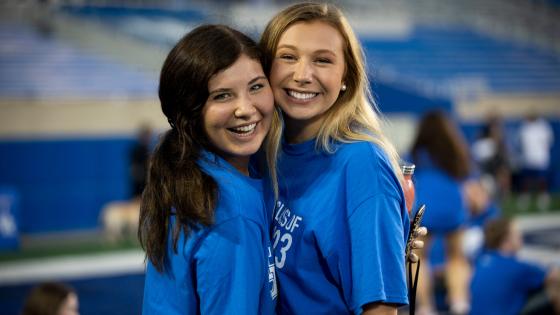 UK has a leadership experience meant exclusively for new students just like you! Join First-Year Forum, share your experiences as a new student, and inform future programming for incoming Wildcats. You'll participate in monthly meetings and offer feedback and suggestions based on your experience while gaining leadership skills that will aid in your overall success at UK. We'll connect you to others on campus early on in your time as a Wildcat. When we meet in person, we'll provide a meal, too. The application will be available on BBNvolved in June and is due on September 1, 2023. UK faculty, staff, and administrators will have the opportunity to nominate new students to participate as well.
Approximately 25 new students will be selected to participate in the First-Year Forum. These students will represent the incoming class and will be asked to share their experiences – good and bad – related to their first year at UK. They'll be asked to offer feedback on the orientation process (both Big Blue Nation Orientation and K Week), new student programming, campus resources, support for new students, and more. Our goals are to develop First-Year Forum participants as emerging campus leaders while also using their experiences to improve UK's work with new students more broadly.
What is expected of First-Year Forum participants?
Participate in monthly meetings held September through April
We ask participants to make every effort to attend unless they have an academic excuse. Meetings will include opportunities to share experiences and provide feedback as well as hone valuable skills while interacting with administrators, students, and staff from around campus.