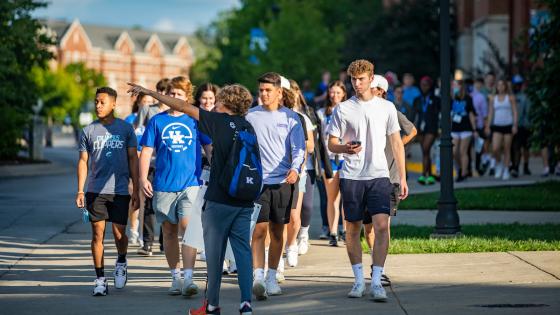 Frequently Asked Questions
Why should I attend K Week?
K Week is the second step in the orientation process and the best way to get started at UK. Everything is designed to help your transition to UK be a smooth one. There are more than 100 events that take place during K Week, so we are confident you will find something that interests you! K Week is one of the biggest traditions on campus, and we encourage you to take full advantage of it.  
Is K Week mandatory?
All new undergraduate students are expected to attend K Week, and attendance will be taken at major K Week events, including college meetings. Students are strongly encouraged to attend other K Week events of interest to them.
What if I need to miss part of K Week?
We understand that some students may have other obligations during K Week, but coming to college is a once-in-a-lifetime opportunity. We strongly encourage you to participate fully in K Week, as this is the opportunity to make your new home at UK, meet people you will be living and studying with, make new friends, and get started on the right foot. Attendance will be taken at college meetings as well as several other K Week events. Students anticipating missing their college meeting should reach out to their academic advisor in advance.
How is attendance taken at K Week?
Attendance is taken at K Week and many other UK events by scanning your BBNvolved Event Pass, which we encourage you to go ahead and download. Learn more about how to access your Event Pass at Know Before You Go.
Is K Week for transfer students? What about non-traditional students?
While K Week is open to all new undergraduate students starting at UK, we understand that our incoming class is made up of people with diverse backgrounds and needs. We encourage transfer students and non-traditional students to review the K Week schedule and determine what events best meet their needs, paying particular attention to their college meetings. Come to what you can, and connect with UK resources that are here to support you in your transition to campus. We're glad to have you at UK!
What should I wear to K Week?
Kentucky's August weather can be unpredictable! We encourage dressing for hot weather. Events take place all over campus, so comfortable walking shoes are a must. Events will take place rain or shine, so check the forecast and be prepared. We'll have fun no matter what! 
Can parents and families participate in K Week?
Since Big Blue Move-in takes place over a few days, families generally depart after they get their new Wildcats settled in the residence halls. We suggest families familiarize themselves with the K Week schedule and encourage their students to take advantage of all the opportunities to meet new people and learn more about UK. Some students may need that extra encouragement to step out of their comfort zones, so remind them of past successes with previous life transitions. 
While families are an important part of our students' support systems, K Week events and activities are only meant for students.
Can BCTC students living in UK residence halls participate in K Week?
BCTC students living in UK halls are welcome but not required to attend K Week events. 
How can I offer feedback on K Week?
We would love your help improving K Week! All feedback you provide us is invaluable and greatly appreciated. Feel free to email your feedback to KWeek@lsv.uky.edu. Additionally, after K Week you may receive a link to a survey asking you to tell us your thoughts about K Week. We rely on the survey results to improve K Week each year, so we appreciate you taking the time to fill it out.