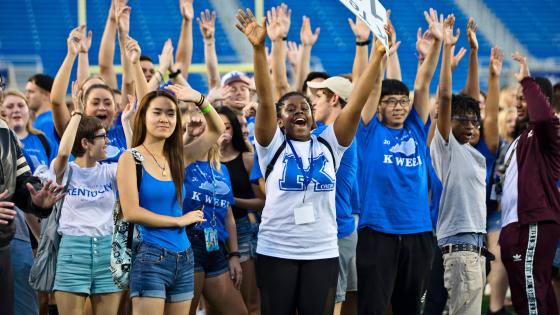 There is so much for you to discover at UK while taking part in K Week, and we don't want you to get overwhelmed! Check out our FAQs page, and read on to learn how to prep for an amazing K Week... 
Download the UK Guides mobile app
The UK Guides app is your on-the-go source for all things K Week! Build your schedule of events, connect with your K Team, and stay updated on everything going on throughout K Week.  
Find your BBNvolved Event Pass
Your Event Pass is a unique QR code that you will use to check into events at UK. At all K Team gatherings, your K Crew leader will use their phone to scan your Event Pass, which will instantly capture your attendance. At many other K Week events, your Event Pass will also be scanned by event organizers to take attendance. Not only is Event Pass used to take attendance for K Week events, but you will continue to use it throughout your entire time at UK as your "ticket" to attend many events put on by student organizations. 
Open your web browser and go to uky.campuslabs.com/engage. 
Log in using your LinkBlue ID and password. 
Click on your profile picture or initials in the top right corner. 
Select "Event Pass" 
Save this QR code on your phone. You can add it to your Apple Wallet or Google Pay, screenshot it, or print a copy to bring with you to events. 
Find your K Team
We know from experience that coming to college can be overwhelming as you are meeting new people and finding your way around campus. To help ease the transition, we have recruited more than 200 of UK's best student leaders to assist you during K Week. These students are members of K Crew, and they will be helping you and the other new students on your K Team, a group of approximately 25 new students, throughout K Week. You will attend several K Week events with your K Team, so don't worry about going to events alone or finding your way around by yourself. 
 K Teams are assigned in an effort to help you start building relationships early with the people you will be living or taking classes with. If you are living on campus, you will be placed on a K Team with neighbors and roommates from your residence hall. If you will be living off campus, you will be in a K Team with other students in your undergraduate college.  
 K Teams are assigned in August and announced a few days before K Week begins. You will be able to find your K Team number by downloading the UK Guides mobile app and searching for your residence hall room number or college. 
New students will meet with their K Team and assigned K Crew leader at least four times during K Week. The full schedule will be published on the UK Guides mobile app before K Week begins. 
Be sure to get your K Crew leader's cell phone number and email address so that you can ask any questions you have during K Week.