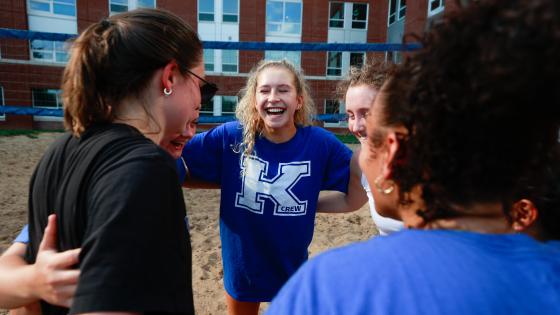 K Week is one of the largest collaborative programs at the University of Kentucky, and it takes a lot of dedicated faculty, staff, student leaders, and community partners to make new student transitions to campus as smooth as possible. We appreciate your help! Below is a list of possible involvement opportunities for our current students and campus partners.
Student Leadership Opportunities
Move-in
Volunteers are needed to give students and families a warm welcome and direct them through the move-in experience. Who can volunteer?
Faculty and staff
Returning students
Student organizations
Alumni
Parents and families
Contact UK Housing for more information. 
Super Start
Super Start provides us with the opportunity for faculty and staff to welcome students and assist them by answering their questions and providing directions to classes and other campus locations. 
Super Start will take place during the first two days of classes, August 21 and 22, from 7:30 a.m. to 3 p.m. There will be information tables located: 
Outside White Hall Classroom Building 

Near William T. Young Library  
Faculty and staff volunteers are needed to staff these information tables and provide directions to students. You don't have to be an expert on campus buildings to volunteer; all you need is a willingness to help and the ability to check an online map for any locations that may stump both the new students and you.  
Sign-up links will be posted in summer 2023, so please check back for more information. 
First Day of School Photos
On August 21, the UK Parent and Family Association and UK Alumni Association will be taking first day of school photos for students. Faculty, staff, and Parent Advisory Council volunteers are needed to assist with greeting students, managing the line, and answering questions.  
Sign-up links will be posted in summer 2023, so please check back for more information.